Vintage Zippo: 1963 Reddy Kilowatt
For sale on eBay: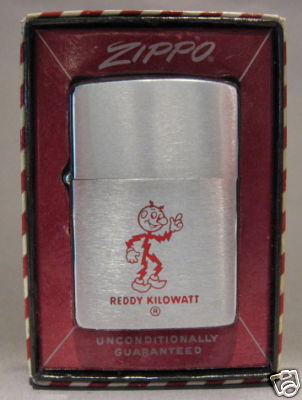 ~~~ A COOL LITTLE REDDY KILOWATT ZIPPO WITH BOX FROM 1963~~~
BRADFORD IN TOP LEFT, PA. IN TOP RIGHT
ZIPPO SCRIPT IN THE CENTER
2 DOTS ON THE LEFT, 1 DOT ON THE RIGHT
PAT. 2517191 CENTERED ON THE BOTTOM
LIGHTER WORKS FINE CONSIDERING THE OUTER APPEARANCE
~~~SUPER CONDITION FOR A COLLECTOR~~~
Also noted: Reddy Kilowatt auction items, including a frisbee, beanie baby, golf balls, cooler, hat, t-shirt and mousepad. Donated by Xcel Energy. Retail value of $250.00.