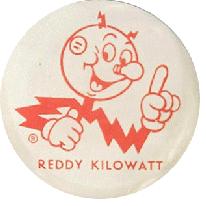 About Reddy: He's a corporate mascot and, well, "spokesthing," created in 1926 by Ashton B. Collins, Sr., of the Alabama Power Company. Reddy has a lightbulb for a nose, wall outlets for ears and a torso and limbs made of lightning bolts. The character was licensed to power companies across the United States to represent electricity as a safe and useful utility. Employed by more than 200 different companies at one time, he is rarely seen outside of antique malls and garage sales these days.
About this site: This is the home of a completely unofficial web site dedicated to Reddy Kilowatt. It features history, memorabilia, items for sale and more. Please note that I can't/don't/won't estimate the value of any Reddy collectibles. Seriously. Ever. Try looking at the going price at eBay or at other antique dealers if you want to find out how much any particular Reddy Kilowatt item might be worth.
This won't be the most active blog out there — but it will serve to find, sort and catalog lots of information about Reddy Kilowatt, his history and the various items and memorabilia you can find for sale these days. I started it because there is no ongoing site like this, just a few static histories. Plus my dad, an electrician who worked for Ohio Edison, has a great collection of Reddy stuff that I will try to post here as time allows.
Read this part:
I can't/don't/won't estimate the value of any Reddy collectibles. Seriously. Ever. Just go to eBay.
The name and figure of Reddy Kilowatt® and Reddy® are federally and internationally registered trademarks and service marks, and may be used only under license from Xcel Energy, Inc.
This is a fan site and is not affiliated with Northern States Power Company, Xcel or the Reddy Kilowatt Corporation in any way. I can't grant licensing for using Reddy's image.