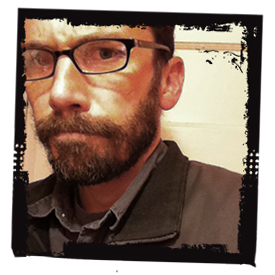 I make things.
Well, I try to make things interesting by helping people understand and appreciate what's right in front of them. I do this for work and play. In fact, I was asked to speak at TEDxVienna 2022 about  everyday creativity: How to Find Attention, Mindfulness, and Creativity in the Ordinary | Bill Keaggy | TEDxVienna.
I live in Saint Louis, Missouri. I'm fromOHIO. I'm happily married and have two awesome kids. I like backpacking and bikes. I like raspberries. I like old cameras. I've got sunshine on a cloudy day.
I co-founded Tremendousness. It's my main thing, now. I'm @keaggy on Instagram and @keaggy on Twitter. Same with lots of other places, too.
I was a founding partner and proto-blogger at XPLANE (~1999). Eventually ended up at Dachis Group through acquisition (2010). Before all that/mixed in with all that I was an earnest magazine designer (starting 1995), idealistic web guy (starting 1997), and grizzled photo editor (starting 2004) at the St. Louis Post-Dispatch. Before that I made a BMX 'zine called ACC (aka The Atomic Circle of Chaos, 1988-1993). And before that I just drew some shit, sucked at baseball, loved The Dead Milkmen, and rode my bike on some walls.
Here's my original about page, first posted in 2002. Although it's no longer updated, here's what it says:
This web site is a collection of visual indiscretions. It serves no purpose and despite what you may think, it does not waste a lot of my time — just yours. Here's a full site index (update: you can use the home page to access everything now).

I like photography, design, music, adventure, the WWW, bowling, books, bikes, and collecting things. It could be argued that I am only good at bikes and collecting things, but the others are a lot of fun too.
That still is, in fact, accurate. I like to get mail. If you want to say hi, please feel free. I may attempt to write back, and I just might be successful.
Sorry.
---
Some lists
Bikes:
· Salsa Journeyman Claris, 2018
· Tommaso Augusta, circa 2000s
Some fave bands:
· Tycho
· Washed Out
· Mogwai
· Doves
· Swervedriver
· Bowie
· Phoebe Bridgers
· Rena Jones
· Marconi Union
· Brian Eno
· The Stooges
· The Replacements
Some fave books:
· A Canticle for Leibowitz
· Annals of the Former World
· How Buildings Learn
· The Cemetery of Forgotten Books
· Where the Wild Things Are
· We, the Drowned
· The Wool Omnibus
· The Warmth of Other Suns
· Dark Money
· Earth Abides
Some fave films:
· A Clockwork Orange
· Le Fabuleux Destin d'Amélie Poulain
· Indiana Jones (I & III)
· Star Wars (IV & VI)
· The Harry Potter series
· Monsters
· Monty Python & the Holy Grail
· Groundhog Day
· Apollo 13
· Big Fish
Some fave TV:
· Dark
· Les Revenants
· Game of Thrones
· Breaking Bad
· Better Call Saul
· The Walking Dead
· The Man In the High Castle
· Halt and Catch Fire
· The Americans
· Warehouse 13
· LOST
· Reservoir Dogs
· Whose Line Is It Anyway?
· America's Funniest Home Videos
· The Good Place / Unbreakable Kimmy Schmidt / Wilfred / Snuff Box / The I.T. Crowd / The Office / Blackish / The Increasingly Poor Decisions of Todd Margaret
Pets:
· Cannonball!
Cats that have passed:
· Truck
· Fetish
· Baltimore
· Medicine
· Drive
· Twitch
· Bucket
· Chilton
· Trapper Keeper™
And dogs:
· Stella (RIP 2000-2015)
· Hildegard (childhood pet named after Tom Hanks' character in "Bosom Buddies")
· Muffit (childhood pet named after the Daggit from "Battlestar Galactica")
Press
My projects have been featured in these books, publications, stations, and aberrations: 
The New York Times, The New York Times Magazine, The Wall Street Journal, The Los Angeles Times, Chicago Tribune, Chicago Sun-Times, Washington Post, St. Louis Post-Dispatch, St. Louis Magazine, The Riverfront Times, St. Louis Business Journal, The Journal of Folklore Research, Detroit Free Press, Tampa Tribune, The Christian Science Monitor, The Cincinnati Enquirer, USA Today, The Guardian, The Mirror, The Sydney Morning Herald, The Toronto Star, Baltimore City Paper, Wired, Forbes, Fast Company, Business 2.0, Advertising Age, Bon Appetit, Family Circle, Bizarre Magazine, Metropolis, HOW Magazine, MacWorld, Music Times, The Morning News, JPG Magazine
, 
Factsheet 5, Bookpage, Mental Floss,
Information Architecture for the World Wide Web, The Weblog Handbook, Who Let the Blogs Out, Convergences, Photobombed, Trash, The Connected Company, Social Business by Design, Self Promotion Online, The Sketchnote Handbook, Network Security Illustrated, Riot Grrrl, Weird Missouri, The Muny,
Yahoo!, AOL, Flickr, 52 Projects, Frieze, Fark, Treehugger, k10k, BoingBoing, MetaFilter, Design Observer, The Curators, NBC, ABC, FOX, NPR, CBC, KMOX, Jimmy Kimmel Live, &c…
Here's an actual media page.
My whole life
· Hiked the Tahoe Rim Trail (170 miles), 2022
· It turns out that my new favorite hobby is leisure, also hiked the River to River Trail (170 miles), 2021
· WTF, guess we'll all just watch a lot of TV (goal: Every MST3K episode, highlight: "Dark"), 2020
· Thru-hiked the Ozark Trail (230 miles) & visited every accessible Missouri State Park except one, 2019
· Decided to become a backpacker/hiker, 2018
· Learned I am too impatient to do quality woodworking, 2017
· Wrote a video on gratitude, got into yoga, felt very old, 2016
· Helped celebrate 50th anniversary of the Gateway Arch, 2015
· Attempted Something small every day… (failed, but made some new stuff), 2014
· Launched Tremendousness; exhibited at Cannes Lions, 2013
· Started thinking about Tremendousness, 2012
· Designed The Connected Company, 2011
· Was a guest on Jimmy Kimmel Live, 2010
· Appeared in Coudal Partners' The Curators documentary film, 2009
· BlueQ published 50 SAD CHAIRS, 2008
· HOW Books published Milk Eggs Vodka, 2007
· Started The Junk Science Email Newsletter, 2006
· Made Sorena Rose Keaggy, 2005
· Interviewed in The New York Times Magazine, 2004
· Made Liam Ulysses Keaggy, 2003
· Small mention in The Weblog Handbook, 2002
· Interviewed by The Washington Post about blogging, 2001
· Married Diane, 2000
· Founding partner at XPLANE; launched keaggy.com and xBlog, 1999
· I don't remember, 1998
· Began working on the Web full-time; started The Grocery List Collection, 1997
· Ended process of recording more than 250 songs, 1996
· Moved to Saint Louis, 1995
· Began process of recording more than 250 songs, 1994
· Published final issue of ACC 'zine, cut off dreadlocks, 1993
· Transferred to Ohio University, Athens, Ohio, 1992
· Interviewed Smashing Pumpkins; started growing dreadlocks, 1991
· First (and last) billboard design, 1990
· Started judging 2-HIP BMX contests, 1989
· Started publishing a 'zine, 1988
· Won first place in my first freestyle competition, 1987
· Started riding BMX bikes, discovered punk rock ,1986
· Major mullet, 1985
· Listened to "One Night In Bangkok" like 10,000 times, 1984
· Really into Huey Lewis and Styx, 1983
· Started collecting key chains, 1982
· Sucked terribly at baseball, 1981
· Painted my sneakers silver, 1980
· Learned to pop-a-wheelie, 1979
· Designed my own t-shirt with magic marker, 1978
· Really into "The Six Million Dollar Man", 1977
· Experienced U.S. bicentennial, 1976
· Moved to Columbiana, Ohio, 1975
· Put on too-small cowboy boots; couldn't get them off, 1974
· Went camping in the Alleghenies, 1973
· First taste of beer (PBR), 1972
· Born in Youngstown, Ohio, 1971